A Bit of the Beach to Wear Every Day
real sea glass jewelry
surf-tumbled | hand-gathered | one-of-a-kind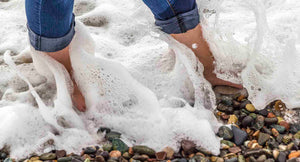 fine leather, genuine pearls & real sea glass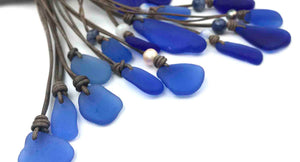 FROM THE FAMED SEAHAM BEACH
english sea glass multis
unique | breathtaking | ultra rare

Wear a Genuine Bit of the Beach Every Day
Welcome
I'm April Knecht
Little did I know when I was taken to "Sea Glass Beach" as a six-year-old, that I would begin a life-long love affair with these frosty gifts of the sea! Tens of thousands of hours, over four decades (and what seems like several lifetimes) later, I sit surrounded by hundreds of pounds of genuine, hand-gathered Sea Glass shards in my Florida Coast jewelry studio.
Now, I get to share my love of these "Bits of the Beach" every day...
Every piece of Sea Glass you see here is a genuine surf-tumbled treasure. Each piece comes with a photo Certificate of Authenticity, a 12 Page Guide to Real Sea Glass, a care guide and gift-ready packaging.
★★★★★

By the way the pictures don't do it justice, and I can see what you mean about the "glow". Really awesome piece and thank you for shipping it out so quickly.

Ken F

Neshanic Station, NJ
★★★★★

Absolutely LOVE this addition to myseaglass collection. It is such a unique piece-both with the color of the glass, and the beautiful setting! Thank you for another beautiful way to keep the sea with me!

Joan R

Marshall, TX
★★★★★

You have been more than kind – you are reminders that kindhearted people do exist in this rumble-tumble world and I thank you!

Mary R

Redding, CA
★★★★★

Love their one of a kind jewelry. April and Robert are extremely knowledgeable and will make sure you find the right piece!

Steve S

Halifax, NS
★★★★★

Best gift I ever bought. THANK YOU!

Diana L

Biloxi, MS
★★★★★

I've been the lucky recipient of several of April's lovely sea glass jewelry treasures. Guaranteed to please any of the beachin' gals on your shopping list!

Abby S

Coral Springs, FL
★★★★★

I was at a party and the hostess said she loved my necklace, so I told her what it was. I can't wait to return for another "treasure of the sea."

Cammi P

Washington DC
★★★★★

I love, love love everything on your website! They are such a cool pieces of history.

Wendy B

Albany, NY
★★★★★

The customer service here is incredible!  After my husband gave me some earrings from the shop, I promptly lost one. April went out of her way to match my remaining earring. She is fun, professional, and caring. Five Stars!

Valerie P

Cedar Rapids, IA
Notes from the Sea Glass Sisterhood
View all